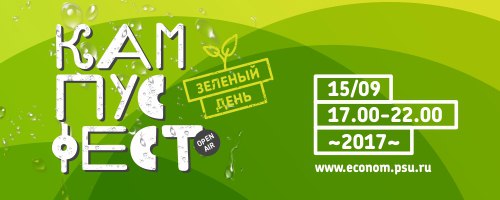 The "Campus Fest" will take place on the territory of the university campus on September 15, 2017, from 5 to 10 p.m. It is an open-air festival, organised by the faculty of Economics of Perm State University. The campus will turn into a real town with its own post office, restaurants, stadium, etc. Along with the iconic main stage with «Europe+» radio DJs, food court, dancefloor, sports ground and lecture room, there will be some new activities. Ecology will be the topic to interweave the well-known and new activities.
The Perm University History Museum together with the Comparative Historical and Political Research Centre also has its own ground prepared — an eco chill-out zone «Picnic by the Horse» (located behind building 5*). It will be an improvised Thanksgiving picnic around the «Trojan Horse» art object, which appeared during the «Museum and Botanical Garden Night» in 2017. There, on a cosy campus field, in a friendly atmosphere we will reflect on the work of the «Campus Martius, or How to Become a University Citizen» project, play games and watch various artistic installations.
5 – 6 p.m. – Aleksey Shchigalev will be drawing a graffiti on the building's wall.
6 – 8 p.m. – Dj Nikita Klassen will put on classy music.
8 – 9 p.m. – We will watch the films «Happiness is Not Far Off» (directed by Natalia Savras, Russia, 2016) and «Passenger Traffic» (directed by Anna Dranitsyna, Russia, 2015)
Our teens team prepared navigation and will help to find the way to the picnic zone.
*In case of bad weather, all events will take place in the Perm University History Museum (building 2, 2nd floor).