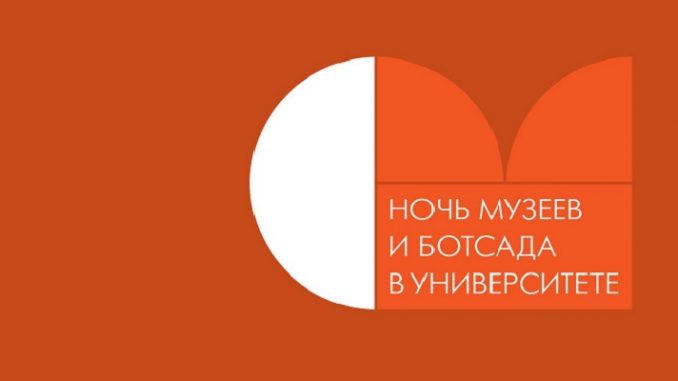 The Night of Museums will commence in the university the day before this all-russian event.  On 19th of May, the campus of Perm State University will turn into a city-state with its own theatre, an agora, and a mouseion, all connected with museum collections and the campus itself. Everyone will have an opportunity to see a sacred grove of Zeus, take a walk with philosophers, take part in the Olympic Games, see various physical and chemical experiments as well as witness some of the first great discoveries. Children will be invited to visit an ancient scholē (school). At the end you will be able to see a renovated entrance zone to Perm University History Museum, which have marked the culmination of the «Campus Martius, or How to become a citizen of Perm University» project, supported by Vladimir Potanin Foundation.
You are welcome to visit:
Free admission to the campus and to the museums. Guided tours will be available for groups formed near the museums.
Tickets to the Botanical Garden can be purchased at the entrance.
During your stay on campus, you will meet the participants of the Night's art programme. You will see how Permian artists have reinterpreted the Antiquity's legacy:
The interactive «Trojan Horse» art object (by Aleksey Go, Aleksey Shchigalev, Edward von Benkendorf and Andrey Kataev from «Dom Gruzсhika» art residence) – placed in front of the Institute of Natural Science
The «Diogenes' Barrel» interactive object (by Aleksey Go)
The «Division» performance (with audience's participation) by Elena Rambo
The «Cithara of the Dryads» interactive sound-art object by Alexander Agafonov and Alexander Krasovsky (at the intersection of Bukireva and Genkelya streets)
The»Frukty» art group street interventions (all over the campus)
Light interventions by Alex Etewut (all over the campus)
The «Plain» installation by Aleksey Shchigalev (the tower of the Institute of Natural Science)
The «Untitled» installation by Slava Nesterov (the tower of the Institute of Natural Science)
Programme in Russian: noch_muzeev_2017